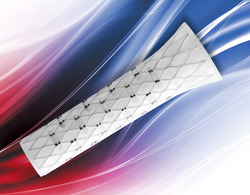 Murray Hill, NJ (PRWEB) February 10, 2010
C. R. Bard, Inc. (NYSE: BCR) today announced the publication of trial results by The New England Journal of Medicine (NEJM) showing the Bard FLAIR® Endovascular Stent Graft maintains the patency of dialysis access grafts more effectively than balloon angioplasty alone. It is the first prospective study to demonstrate the superiority of a new therapy over balloon angioplasty for hemodialysis patients who experience stenoses, or narrowing, where the graft connects with a vein, that can limit blood flow and lead to ineffective dialysis treatment.
Hemodialysis is the leading treatment for more than 341,000 patients in the United States with end-stage renal disease (ESRD), or kidney failure, which can be caused by common chronic conditions such as diabetes and hypertension. Preparation for hemodialysis begins with the surgical creation of a "vascular access" that connects an artery and vein in the arm for dialysis treatment. Prosthetic arteriovenous (AV) grafts, or synthetic tubes, are commonly used for vascular access; however, they frequently develop stenoses at the venous anastomosis. Although balloon angioplasty is commonly used to treat this complication, its poor durability often leads to frequent repeat procedures. As many as 25% of U.S. ESRD patient hospital admissions result from complications related to vascular access, with an estimated cost of $ 1 billion per year.
The FLAIR® Endovascular Stent Graft is the first interventional implant technology approved by the U.S. Food and Drug Administration for use in the treatment of stenoses at the venous anastomosis of ePTFE or other synthetic AV grafts. In the prospective, randomized, controlled, multi-center trial, 190 patients who required treatment for failing AV grafts received either balloon angioplasty alone or balloon angioplasty and a FLAIR® Endovascular Stent Graft. At six months, the treatment area of patients that received a FLAIR® Endovascular Stent Graft was more than twice as likely to be functioning when compared to patients who received balloon angioplasty alone (treatment area primary patency, 50.6 percent vs. 23.3 percent respectively) and at 210 days, the treatment area was far less likely to require additional interventions (p=0.008). Adverse events, patient demographics and clinical variables were statistically equivalent between both groups during the trial.
"This is a game-changing study," said Ziv Haskal M.D., Chief of the Vascular and Interventional Radiology Division at the University of Maryland Medical Center in Baltimore and principal investigator. "For the first time, clinicians have compelling evidence that we can significantly improve outcomes over balloon angioplasty in this underserved and difficult-to-treat patient population. The durable benefit we observed in the trial, as demonstrated by superior patency and freedom from repeat interventions, strongly supports a fundamental change in how we care for hemodialysis patients."
Timothy M. Ring, chairman and chief executive officer, commented, "The publication of the FLAIR® Trial in The New England Journal of Medicine speaks to the rigor of the trial, the relevance of the resultant data and the impact this technology could have on the care of hemodialysis patients. It also has important implications for the healthcare system as our aging population intersects with increasing pressure to control costs and the desire for better evidence-based medicine."
C. R. Bard, Inc., (www.crbard.com) headquartered in Murray Hill, N.J., is a leading multinational developer, manufacturer and marketer of innovative, life-enhancing medical technologies in the fields of vascular, urology, oncology and surgical specialty products.
This press release may contain forward-looking statements within the meaning of the Private Securities Litigation Reform Act of 1995, which are based on management's current expectations, the accuracy of which is necessarily subject to risks and uncertainties. These statements are not historical in nature and use words such as "anticipate", "estimate", "expect", "project", "intend", "forecast", "plan", "believe", and other words of similar meaning in connection with any discussion of future operating or financial performance. Many factors may cause actual results to differ materially from anticipated results including product developments, sales efforts, income tax matters, the outcomes of contingencies such as legal proceedings, and other economic, business, competitive and regulatory factors. The company undertakes no obligation to update its forward-looking statements. Please refer to the Cautionary Statement Regarding Forward-Looking Information in Bard's September 30, 2009 Form 10-Q for more detailed information about these and other factors that may cause actual results to differ materially from those expressed or implied.
###
Find More Income Tax Vs Freedom Press Releases